Do you keep coming across abnormally bitter coffees, that leave you feeling worse off than before?
The jitters. Headaches. A worse brain fog than the one you had when you woke up.
You might think it's just because you haven't had enough water to drink...or, didn't have time to eat breakfast again to balance out the caffeine.
But in fact, this common issue facing coffee lovers everywhere is something far more insidious. It's mold.
Who needs that? Not you, with how busy you are! You need consistency. You need something tested and proven to be safe to drink. But most of all, you need something that is also delicious!
The Cleanest Coffee You'll Ever Try...Guaranteed!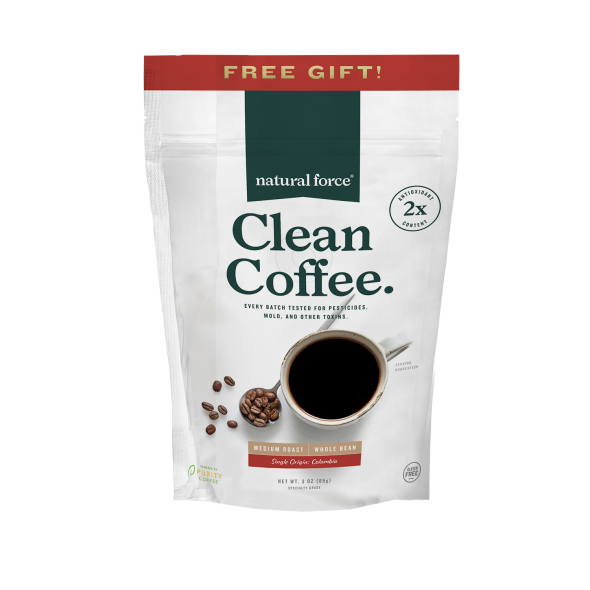 Just pay $5.99 for Shipping & Handling
But don't just take our word for it. See what others have had to say after they've made the switch to clean, mold-free and tasty coffee from Natural Force:
"This coffee is amazing! The taste is smooth, flavorful and delicious with cocoa/citrus notes as promised. I had no idea that ordinary coffee could be home to mold, mycotoxins and pesticide run off. I'm so happy I learned about this product and the health benefits it could bring from its roasting process and increased antioxidants. My new go-to coffee!"
"This is exactly what I've been looking for. I avoid many hidden toxins through my diet and the diet of my clients, coffee is a tough one because people simply are not aware of the dangers of things like mold in coffee (gross!). As for the taste, OH EM GEE. It's the perfect medium roast I've ever had."
"This coffee is absolutely amazing. I have been looking for a new coffee to try out and stumbled upon this. My first cup was so smooth and delicious that I had to make myself a second cup! I've used a couple of other products from Natural Force, but now that coffee beans are available I'm 100% all in!"
Taste and feel the "insanely addicting" Clean Coffee difference today. Order your free sample now!
No required subscription and no strings attached. Just pay $5.99 for Shipping & Handling and discover the Clean Coffee difference for yourself.
Mold is a pretty opportunistic little organism. It thrives best in moist environments, like the one that coffee beans grow best in. This makes quick harvesting, drying, and packaging extra important.
While commercial growers must adhere to specific guidelines, regular coffee beans will be allowed to sit in mold-loving storage for a while before they are processed into coffee, shipped, sold, and then drunk by unsuspecting people like you.
What types of health issues can long-term exposure to these molds cause? Well, cancer for one. Chronic allergic reactions and inflammation for another.
The thing is, even if those mold levels in commercial coffees are considered "safe," do you really want to expose yourself to those health risks? If you drink up to three cups of moldy coffee per day, you are getting a cumulative effect, exposing yourself to potentially harmful molds. Not to mention the uncomfortable reactions you can get after only drinking a cup or two.
So, why do so many commercial coffees have icky molds included?
Well, you could just quit drinking coffee...
but there's no fun in that and life is certainly less enjoyable without that warm, comforting, caffeinated boost of morning energy in your life!
The easiest way to say "goodbye" to mold, the jitters, and brain fog is to drink clean, high-quality coffee from a proven source.
Our Natural Force Clean Coffee is free from nasty, harmful molds and toxins. While commercial coffee growers let a small percentage of molds squeak by in their testing processes and end up in your java, we guarantee every batch of Natural Force Clean Coffee is toxin-free through rigorous testing.
What's the best way to guarantee that you're not going to be exposed to these molds?
Just pay $5.99 for Shipping & Handling
In the spirit of full transparency, we want to show you what our test results found!
We have the test results to prove it!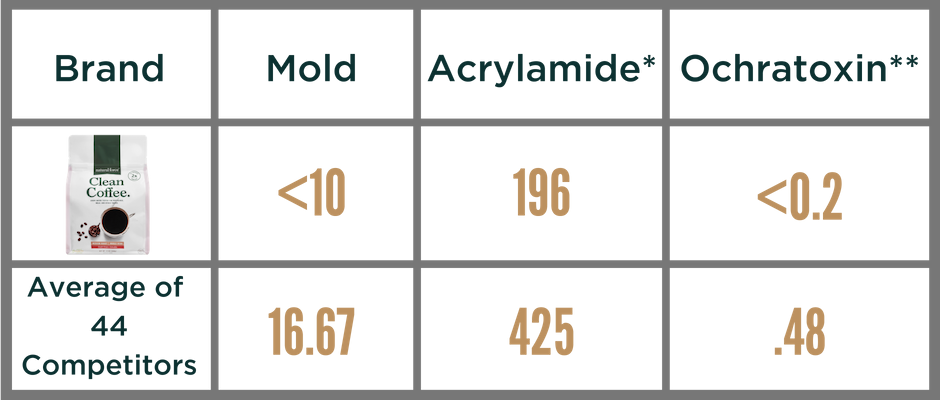 (Mold is measured in colonies, Acrylamide and Ochratoxin is measured in µg/kg)
* Acrylamide can damage the nervous system and can also increase the risk of cancer
**Ochratoxin A can impair mitochondrial function and disrupt protein synthesis. This can lead to memory problems, brain fog, Chronic Fatigue Syndrome, night sweats, dizziness, and even hair loss.
We only source organic beans but still test for 310 different types of pesticides to ensure that Clean Coffee is pesticide free! Did you know that 97% of coffee beans are grown using pesticides?
Of the 44 competitors tested, we had the highest antioxidant count at 3.26 g/100g. That's 200% higher than 12 of the brands and 150% higher than 25 brands.
You may even recognize some of the brands we tested against: Starbucks, Dunkin Donuts, Peet's, Bulletproof, Trader Joe's, and more!
No required subscription and no strings attached. Just pay $5.99 for Shipping & Handling (that's like 2 Starbucks coffees) and discover the Clean Coffee difference for yourself.

Get 12 cups of FREE Clean Coffee!
Just pay $5.99 for Shipping & Handling
Notes of Cocoa and Citrus
Nitrogen Flushed for Freshness
Sample Bag Makes up to 12 Cups
Check out #mynaturalforce on Instagram to see how people are using their Clean Coffee!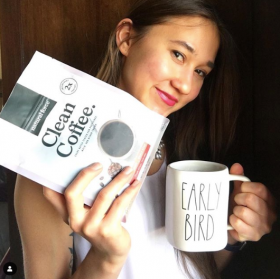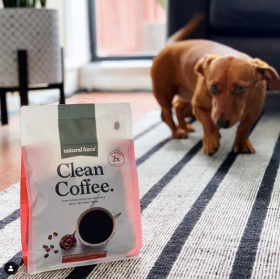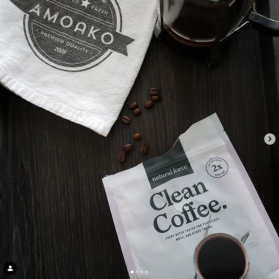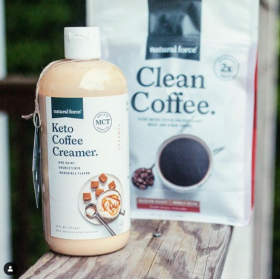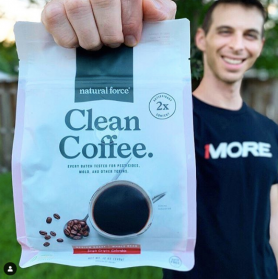 We are both huge coffee fans and enjoy a couple (or more) cups of coffee every day just like you.
But sometimes, we noticed that instead of feeling energized and awake, we would get unwanted brain fog, jitters, headaches, and stomachaches after drinking a cup. It was a little distressing, to say the least. So, we wanted to get to the bottom of it.
We started doing some research on how coffee is manufactured and produced. What we found was scary. Mold and mycotoxins in coffee can result in these exact symptoms, and we got totally freaked out!
But we weren't about to give up one of our favorite drink. So, we decided to do something about it ourselves.
We started searching high and low for a different kind of coffee - one that was free of harmful mold and toxins (with every batch tested!) and that tasted great too, and we found it. Now, we get to enjoy our coffee without getting sick or worrying about the cumulative effects of mold. And, we think you should get to enjoy your coffee care-free too.
Cheers,
Hi! We're Justin & Joe, the creators of Natural Force Clean Coffee!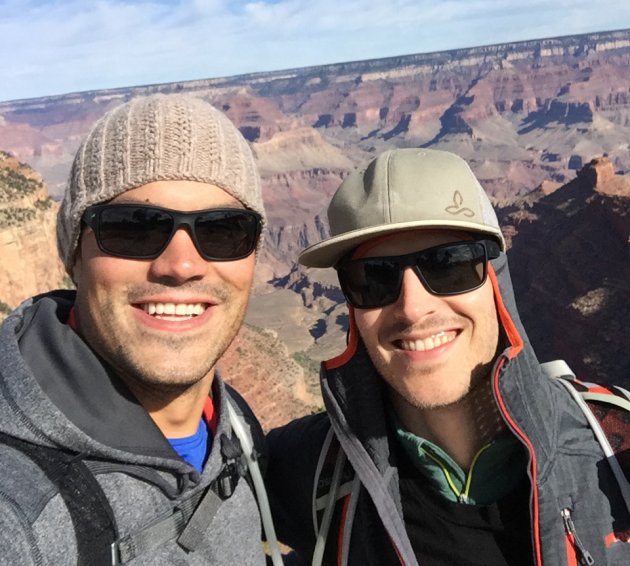 Who created Natural Force Clean Coffee? A pair of fellow coffee lovers of course!
With Natural Force Clean Coffee, you're guaranteed a mold and toxin-free, healthy drink that also tastes amazing.

So, how do we get this healthy, tasty coffee and deliver it straight to you? Check it out below.
Top 1% of superior grade beans handpicked from sustainable, direct-trade coffee plantations in Columbia. Columbia is home to some of the tastiest coffees in the world.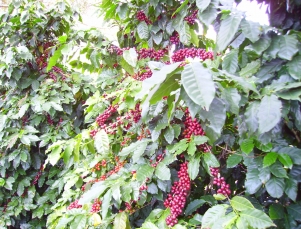 The beans are then gently roasted in a smokeless machine for 200% more antioxidants than your average coffee. It's doubly healthy - free of mold, and packed with life-extending antioxidants.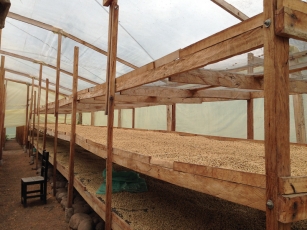 We test every batch of coffee beans to ensure it is below the threshold of 20 ppm for harmful mold and toxins. Way safer than a commercial coffee.
Clean Coffee Speaks for Itself!
"This coffee is AWESOME! It's so hard to find a coffee that I feel confident putting in my body AND tastes great, and this truly does both.You know if it comes from Natural Force you can be confident that it will be good for your body, good for the planet, AND taste awesome. I'll be back for more!!"
"Clean Coffee is the perfect medium roast. It's strong, yet smooth with no bitterness or acidic aftertaste. I enjoy it hot using our French press and iced. Best of all, no jitters! I also appreciate that it's B Corp certified and tested to ensure purity."
"I'm super picky with my coffee, my usual go to's are always Mexican types. This coffee makes it to the top! The smell and taste is amazing, plus you can easily notice how fresh it is. My mom is also a coffee fanatic and she loved it too, although I won't share because it's that good!
See what all the hype is about. Order your free sample now!
No required subscription and no strings attached. Just pay $5.99 for Shipping & Handling and discover the Clean Coffee difference for yourself.
No required subscription and no strings attached. Just pay $5.99 for Shipping & Handling (that's like 2 Starbucks coffees) and discover the Clean Coffee difference for yourself.
Get 12 Cups of FREE Clean Coffee!
Just pay $5.99 for Shipping & Handling
Will you store my
Credit Card?
Do you have decaf available?
Nope! This is JUST a sample. You'll only pay $5.99 to cover Shipping & Handling but that's it! If you want a subscription, you'll have the option to set that up before checking out.
Our standards are so rigorous it's BEYOND organic. We follow SCAA Green Coffee Grading Standards. But just to make it official, we have our Organic Certification stamp pending.
Nope! Since this is just a free sample and not a subscription, we will not be storing your credit card information after you check out.
Not yet but that's next on the list and coming soon!
How long does it stay fresh once opened?
Once a bag has been opened, it is recommended to be consumed within 15 days or else the coffee will begin to stale and lose its health benefits.
Do you offer ground coffee?
We only offer Clean Coffee in whole beans. The whole bean preserves the freshness of the coffee, and therefore, locks in the antioxidants.
Just pay $5.99 for Shipping & Handling
Get your FREE Sample of Clean Coffee!
Every batch tested for mold and toxins. It's clean, safe, and healthy.
No toxic symptoms! Avoid bitterness, brain fog, jitters, and headaches.
Top 1% of coffee beans in the world
200% MORE antioxidants than regular coffee
30 Day Money Back Guarantee
Don't love your Clean Coffee like you thought you would?
Keep it and get a full refund. If you aren't 100% satisfied, let us know within 30 days and we'll make it right by providing a refund.
DISCLAIMER
The statements made on this website have not been evaluated by the U.S. Food and Drug Administration. The products sold on this website are not intended to diagnose, treat, cure or prevent any disease. The information provided by this website or this company is not a substitute for a face-to-face consultation with your physician, and should not be construed as individual medical advice.