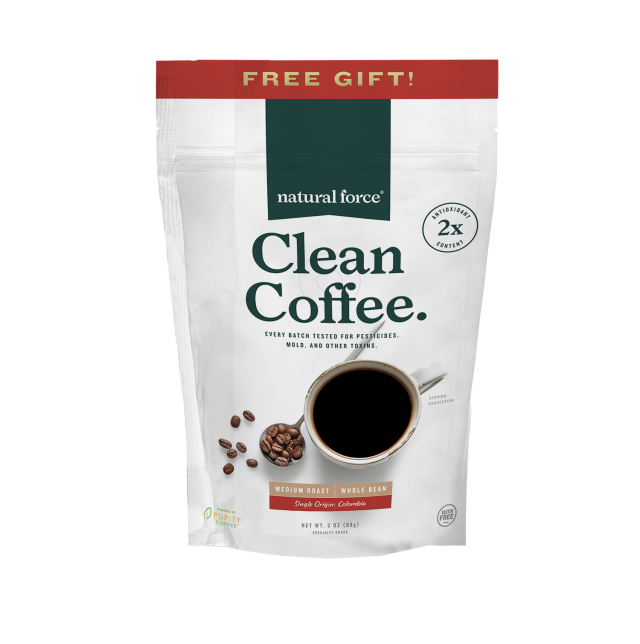 When tested against 44 competitors (Starbucks, Peets, and Dunkin Donuts included), on average our Clean Coffee has 50% less mold and mycotoxins and is 200% higher in antioxidants.
The Cleanest Coffee You'll Ever Try...Guaranteed!
Just pay $5.99 for Shipping & Handling
"I have been looking for a new coffee to try out and stumbled upon this. My first cup was so smooth and delicious that I had to make myself a second cup! I've used a couple of other products from Natural Force, but now that coffee beans are available I'm 100% all in!"

This Coffee is Absolutely Amazing.
"I avoid many hidden toxins through my diet and the diet of my clients, coffee is a tough one because people simply are not aware of the dangers of things like mold in coffee (gross!). As for the taste, OH EM GEE. It's the perfect medium roast I've ever had."
This is Exactly What I've Been Looking For.


"The taste is smooth, flavorful and delicious with cocoa/citrus notes as promised. I had no idea that ordinary coffee could be home to mold, mycotoxins and pesticide run off. I'm so happy I learned about this product and the health benefits it could bring from its roasting process and increased antioxidants. My new go-to coffee!"
30 Day Money Back Guarantee
Don't love your Clean Coffee like you thought you would?
Keep it and get a full refund. If you aren't 100% satisfied, let us know within 30 days and we'll make it right by providing a refund.
See what all the "insanely addicting" hype is about.
Order your free sample now!
No required subscription and no strings attached. Just pay $5.99 for Shipping & Handling and discover the Clean Coffee difference for yourself.